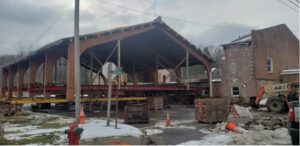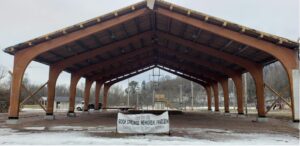 Help us save a portion of the Memorial Community Center! The Village is in the process of raising money to salvage the roof/beams of the old Memorial Community Center and making it into a pavilion. Donations can be made in the following ways:
Send check directly to the Village of Rock Springs. Make checks payable to: Village of Rock Springs Pavilion Project, PO Box 26, Rock Springs, WI 53961
Pavilion Updates
February 17, 2023:
The Memorial Pavilion section has been removed from the Memorial Community Center, lowered to ground level, and moved into its new position.  The carpentry phase for the gable ends and side supports will begin in April.  The flooring and electrical work will commence based on the level of funds.  Fundraising efforts are continuing in order to reach the budget targets for the associated items.
Please donate to the pavilion, don't wait, let's make this happen in record time!
Please send donations to:
Rock Springs Village Clerk
Memorial Pavilion
PO Box 26
Rock Springs, WI 53961